330 GT Two Bag Toolkit
There is no definitive source for what tool bag or tools came with a specific car unless you bought it new and kept everything intact. Most cars came with a one piece bag with an extension flap area for the jack and hub puller. However, I know that some of the late Series 2 cars came from the factory with two bags like the 365 model. One bag held the tools and the other, the jack and hub puller. I believe that this change was made to have the tool kits consistent with the 330 GTC and GTS models. Note, all of the owner's manuals pertaining to the 330 GTC or GTS show a single bag toolkit picture.
Toolkit as shown in the 365 GT 2+2 Owner's Manual
As these pictures are for the later 365 model car, not all tools apply to the 330 GT. Further, there are some that are not shown that would have been with a late model 330 GT kit. There's a web page for each tool that has more details, usually with a picture of an original.
As I said above, there's no way of exactly knowing what was in your original tool kit unless you bought the car new or the original owner took pictures of it. There are some inconsistencies between the 1 piece tool kit and the 2 piece one as described above.
Should there be 4 screwdrivers as described in the 1 piece kit or 3 screwdrivers as described above?

Should there be a grease gun and flexible hose?

Should there be a steel hammer?

Should there be a full (7) set of open end wrenches or just the 2 described above?

What does the smaller 17 mm socket fit?
If anybody has definitive answers to any of these questions, please contact me.
Here's an original 365 tool kit.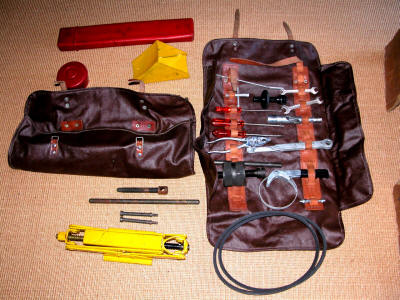 There are a couple of interesting differences compared to the owner's manual information:
The spark plug socket is a swiveling type instead of the two individual ones.

The swiveling extension (top tool in right bag) has a magnet on the end and is not original.

No lead hammer is shown, but the owner said that he forgot to put it in..

The flat plate for the rear hub puller is there, but almost hidden by the jack bag.

The two wrenches are made in Germany by Gedore.
This is how I've set up the twin bags for my late model 330 GT.
As additional information, I came across a Letter from Readers in MotorSport magazine dated August 1967. In this letter, the author (owner of 9915) detailed his two bag tool kit. Since this would have to have been mailed about when the car was purchased (June 30,1967) in order to be published in August, presumably no tools had been lost or added. This was his list:
In one roll-up wallet:
| | |
| --- | --- |
| Tool | My Comment |
| 2 double-ended spanners. | 10-11mm and 12-14mm sizes |
| 1 oil filter remover | |
| 2 socket spanners | Spark plug (13/16") and 17 mm sizes |
| 1 plug spanner with universal joint shaft. | Not sure unless like the earlier spark plug tool |
| 1 pair pliers | |
| 1 slottted screwdriver | Should be two |
| 1 brake bleed adaptor | ? |
| 2 Posidrivers | British for Philips screwdrivers |
| 1 hub extractor | |
| 1 Weber Carburetter spanner | |
| 1 fan belt | |
All the above good quality chromium plated.
In second wallet:
| | |
| --- | --- |
| Tool | My Comment |
| Mechanical jack | |
| Wheel chock to use on the other axle | Never seen one in a 330 GT toolkit |
| Lead mallet | |
| Fold-up triangular warning sign | Never seen one in a 330 GT toolkit |
Missing that I know were in the two bag toolkits in late 330 GTs was the socket ratchet, steel hammer, grease gun, hose and drive shaft adaptor.
In addition, he mentioned the leather owner's wallet with the owner's manual, spare parts manual and service and assistance booklet. Plus two sets of keys and a Prancing Horse key ring. This wallet is really too large to fit comfortably in the glove box of a 330 GT, so I keep mine in the elastic pouch behind the passenger seat.
He also mentioned that his previous 330 GT (6503) had seven spanners, grease gun and steel hammer, but no Posidriver. This is consistent with the single bag toolkit supplied with the earlier 330 GTs with the exception that they would have two wooden handled Philips screwdrivers.