Hub Puller and Jack
Hub pullers came in two sizes, 32mm for cars with 14" wheels and 42mm for cars with 15" wheels, including the 330 GT. Some have the T handle that is fixed and others slide back and forth. This one has a fixed handle.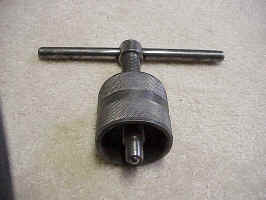 Original 42mm Hub Puller
Jacks are also another tool that varied between the earlier and later models. The early cars had a blue M. Riganti jack like that shown in the toolkit picture and drawing. The later models had yellow jack similar to those in the 246 Dinos. One note about using an original jack. I would never jack my car up with one of them. They fit into the jack hole, surrounded by painted sheet metal that shows. One can either make a mistake and scratch things up or worse, have the jack hole be rusted out and the whole area can collapse. I carry a scissors jack to be used in emergencies.
Original Early Jack
Original Late Jack from SN 8855
There are other yellow jacks of similar style, particularly those in Dinos. The main difference is the mounting of the folding pin. The 330 jack has it mounted in the middle and folding down. The Dino jack has it mounted at the bottom and folding up. You can see the differences below. The 330 jack is on top with the Dino jack at the bottom.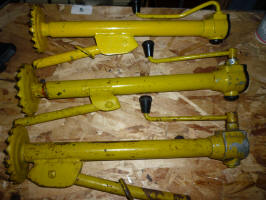 The jack in the middle is from some other car than a Ferrari. It looks close, but not quite right for a 330 jack. The handle is straight, the bracket for the folding pin isn't at beefy and the pin does not have a collar to protect the body.