Oil Filter, Spark Plug and Carburetor Wrenches
The oil filter wrench was made by Carello as noted by the stamp on the handle.
The spark plug wrench is also something that changed during the life of the 330 GT production. The original ones were a T-shaped handle with a swiveling socket.
However, late production cars were delivered with a two piece ratcheting socket like shown below. The ratchet is similar to those from the 365 GT and later model cars, but there is not a longer handle extension. The smaller socket is 17 mm, but its use or why it is in the tool kit is unknown.
Note, there are similar ratcheting wrenches from 308 and later tool kits. However, they have a built-in pry bar, so are longer than the 330 one.
The carburetor wrench is pretty simple with two hex sockets at each end and a sliding T handle in the middle. This would be used to remove or install plugs or mixture needles. The carburetors are adjusted by screws with normal screwdriver slots. The finish should be silver cadmium, not the gold cadmium as shown in this picture. The gold cadmium ones were supplied in the 308 toolkit for the carburetor models.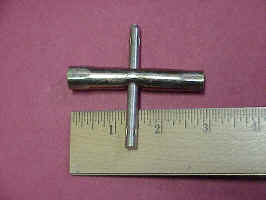 Original Weber Carburetor Wrench