Hammers
The toolkit has two types of hammers. The steel hammer is a French mechanic's hammer (or so I've been told) with a weight of 500 grams. Thanks to Tom Shaughnessy for these pictures.
Original 400 gm Steel Hammer


Original 500 gm Steel Hammer


Reproduction (Parker Hall) 500 gm Steel Hammer
Beta Tools makes a 500 gm hammer that is approximately the same shape, though the handle isn't straight like the original.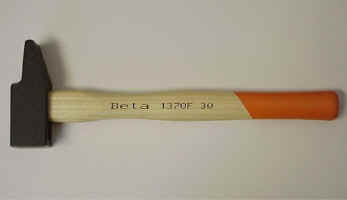 I have ordered several of these a while ago. Lowell Brown got one of these, sanded down the handle and then varnished it. It looks pretty good.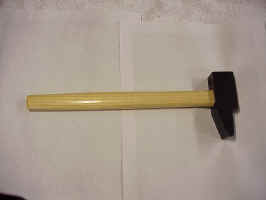 Lowell's Beta Hammer after Refinishing
Lead hammers seem to suffer quite a bit from being used to loosen and tighten the knockoffs. As a result, most of them in a toolkit are smashed flat. I always use a deadblow hammer with nylon faces. As I live in the Seattle area, a visit to the Boeing Surplus store usually yields a couple of them at a dollar or two each. When the faces split, I just toss it out and use another. You can also find a couple of 'socket' type adaptors for use with the knockoffs. In any case, don't use your lead hammer unless you want it to look like the ones below.
You can also still get a lead hammer from Ferrari. It is the style from a 365 2+2 or Daytona kit (before they went to the octagonal knockoffs). I bought the one pictured below from Ron Tonkin Ferrari in Portland, OR.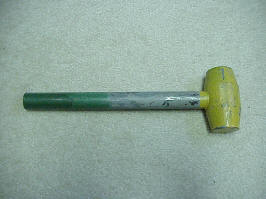 I did find a source of lead hammers that are close but not an exact reproduction at a reasonable price. I bought both the 2 and 3 lb. sizes. The parts books says that the lead hammer is a 1 kg (2.2 lb.) one. However, the 2 lb. one looked too skimpy for me. The major difference was where the mold seam is. The original has the seam going over the top the head from the handle on one side to the other. This one has the seam going from the handle, across the face, top, other face and back to the handle. Here's the 3 lb. one painted by Lowell Brown in the color scheme of the used one above.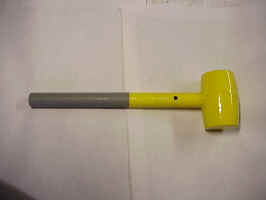 Since I first did this page, I got an original lead hammer (one shown above from 9435). The weight is 3½ lbs including the handle or probably about 3 lbs for the head.
Reproduction lead hammers are available. See the Favorites page for leads.