Tom Tjaarda Interview
Tom Tjaarda was the designer of the 330 GT and the 365 California. He worked for Pininfarina from 1962 to 1967. Tom was a guest at the La Bella Macchine Concours, Pocono, PA, USA on June 28, 2003. Buddy Obara (SN 9667) and Michael Bayer (SN 9727) were in attendance.
Tom was quite gracious and answered the many questions that Buddy and Michael put to him. Buddy taped this interview and I've digitized it in two parts. Just click on each to hear the full interview.
In addition, Tom signed various brochures and manuals that Buddy had accumulated from friends (including me) that knew about upcoming Tom's appearance. Here's one of them.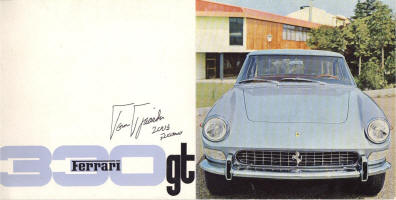 Here are some pictures that were taken when Tom was looking over Buddy's car (which took a 2nd place class award in the concours).