Sports Car World February, 1972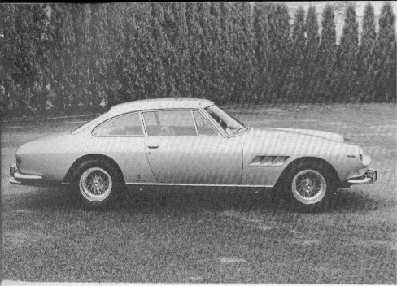 This is where it started: Pininfarina's original beautiful 330 GT body.
A CUSTOMISED FERRARI?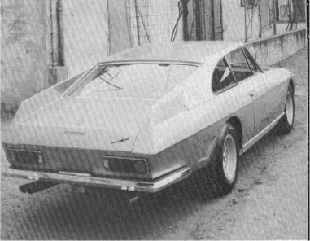 . . . One man's dream of how the 1966 330 GT 2+2 should have been.
Ferraris aren't the sore of motor cars you grab for customising jobs. Heaven forbid — Enzo would choke on the words!
But obviously no one bothered to tell an Italian night club owner, name of Signor Norbert Navarro.
He wasn't too pleased about the appearance of his 1966 330 GT 2+2, and after a few nights away from the club and slaving over a hot drawing board he came up with a sketch of how he reckoned the job should be done.
Now, we're not sure, but this Signor Navarro must be a friend of Piero Drogo, the gentleman who runs Carrozzeria Sports Cars, because he managed to persuade Drogo to accept the design.
Drogo then set to work and cleaned up the design, modified it slightly and came up with a finished, flesh-and-blood customised one-off . . very much one-off.
Drogo retained the basic 330 GT centre section right down to the door handles, and concentrated the modifications on the front and rear ends.
The nose was stretched into a long, dropping snout with new side ducting and a grille that the Commendatore may be less than enthusiastic about.
The rear panelling was given a number of extra inches too, and a much squarer, sharper look with tall and narrow fins spearing aft from the rear quarter lights.
In profile the car doesn't look too bad — very big by Italian standards of course, but not too offensive. But rear-on it looks very much like something Pininfarina would never have done. The tall fins appear to be little more use than marvellous vision restrictors.
Still, the stories of its appeal are probably still being told around Signor Navarro's nightclub, because Italo-American Ferrari agent Luigi Chinetti gauged it just the right size and appearance for the US and promptly snapped it up.
Back in New York he planned to scoot it on to the show circuit where no doubt it's wowing 'em.
Go? Yes it goes to precisely the same degree the ordinary old 330 did: 0 to 60 mph in eight seconds, 125 mph in around 27 seconds with a top speed a fraction over 150.
The engine is the familiar four-litre V12 of 300 bhp, and it runs through the usual five-speed box (fourth spins to 125 mph).
So at least underneath the Prancing Horse still gallops, and makes all the right noises . . even if they are slightly muffled.